Maine law eliminating statute of limitations for child sex crimes faces legal test
More than a dozen people have filed complaints of child sex crimes by leaders in the Portland diocese after the Legislature passed a new law in 2021.
Author: Sean Stackhouse (NEWS CENTER Maine)
Published: 5:20 PM EST January 31, 2023
MAINE, USA — The fate of a Maine law that eliminates the statute of limitations for child sex crimes is now in the hands of a judge.
On Tuesday, Judge Thomas McKeon heard arguments on a motion for judgment in a case of more than a dozen alleged victims of child sexual abuse against leaders in the Roman Catholic Diocese of Portland.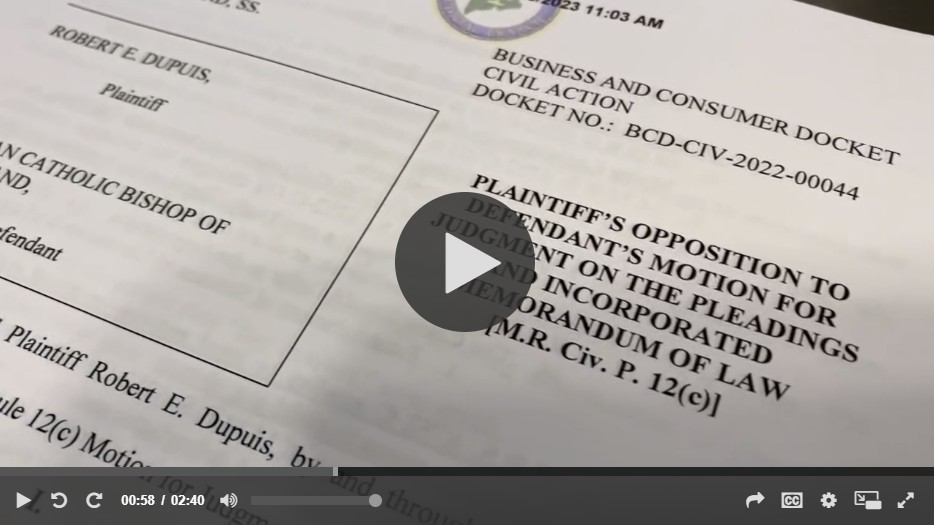 Click Here To Watch News Story on NewsCenter
During a videoconference hearing Tuesday morning, attorneys argued the constitutionality of a Maine law passed by the Legislature in 2021 that removed the statute of limitations on child sexual abuse.
"The effect of allowing it would be a colossal series of due process violations of a procedural nature in a fundamentally unfair trial. You've got witnesses, and I don't. That's not due process," Gerald Petruccelli, of Petruccelli, Martin & Haddow, which is representing the Diocese of Portland, said.
Petruccelli argued that the diocese would be disadvantaged in defending itself because many of those accused in complaints have died.
"The plaintiffs are all alive, and presumably going to testify more or less accurately to their memories of things that happened to them several decades ago. In many of these cases, the person accused is dead," Pertrucelli said.
However, Michael Bigos, an attorney with Berman and Simmons, which is representing more than a dozen clients claiming child sex abuse by church leaders, said, the Legislature was exercising the will of the people when it passed the law in 2021, and the Diocese would not be disadvantaged in representing itself.
"There's no undue discovery issue regarding dead witnesses. If anything, the plaintiffs are more impacted due to the burden of proof. So it's the same burden that's applied to both sides," Bigos said.
"We aren't asking the court to do something drastic here by denying the Diocese motion. The Legislature enacted this retroactive law because it levels the playing field," Bigos said.
During Tuesday's hearings, attorneys referenced several previous court decisions in Maine that address retroactive laws, including the 2022 decision regarding the New England Clean Energy Connect, or CMP Corridor.
The Supreme Judicial Court ruled that the retroactive nature of the referendum last year violated the project developer's constitutional rights, sending it back to a lower court for further proceedings.
"There's nothing which can seriously be said about the power line opinion, as it's a one-off, and it has nothing to do with anything else," Pertruccelli said.
"The NECEC case couldn't have been more narrow and surgically precise in terms of what it was finding a vested right in," Bigos said.
McKeon said at the end of the hearing that he expects to reach a decision in a "matter of weeks."
Original Article Courtesy of:
WCSH News Center 6
Portland, Maine
https://www.newscentermaine.com/article/news/state/me-law-eliminating-statute-of-limitations-for-child-sex-crimes-faces-legal-test-courts/97-ed9465dd-6176-457a-b247-f569ed0115da